Thinkin' Out Loud
Squares.
I've got some things on my mind:
I don't know if going out and drinking/ dancing is fun to me anymore. I'd rather have conversations and/or play games with dope people. 
VS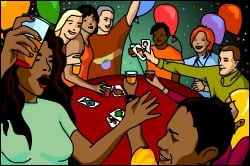 I'm so ready to be in LA. You don't even understand. #Oct12013 #TheGreatEscape
This James Harden move wasn't the best move for OKC, but it was good for the NBA. The league is going to be NUTS in 2-3 years.
I'm officially 25. Man. It's a lot to try and wrap my head around. I just wanna be successful.
I have a lot in the works for 2013 that you guys should definitely enjoy — Movie, Ebook, Web Series, Cartoon, Music. Be on the look out. I'm trying to take over. 
I'm thinking about really cutting down on my bud intake. Only worth it when I'm playing NBA 2k at this point.
It Should Never Be This Serious
I've decided to cop a Macbook. I. Can't. Fucking. Wait.
*Slow Head Nod*
The Dynasty @ The W pops off Nov 17. which is the precursor for Sophistic Saturdays @ FACES in Mears Park Downtown STP. It's guaranteed to be the best shit I've experienced in my adult life. Mark my words
.
Yeah Buddy.
—————————————————————————————————
That wraps up my thoughts for this evening. And I'ma leave y'all with this.
Until next time,
MicRNS
Join the Movement #SQUARES Unite